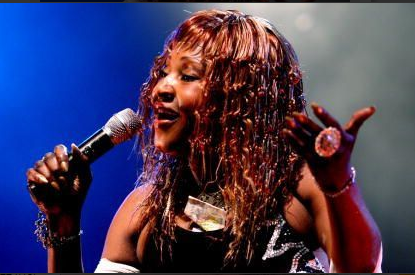 Mbilia Mboyo Marie - Claire popularly known as M'Bilia Bel is a rumba singer from the Democratic Republic of Congo (DRC). She is known as the Queen of Congolese rumba. She rose to fame after being discovered by Tabu Ley Rochereau.
M'Bilia Bel was born in Kinshasa in August 14, 1959, and brought up in the Democratic Republic of Congo. She became successful in the early 1980s when she recorded and toured with Tabu Ley Rochereau, and made her own solo albums.
She began her performing career at the age of seventeen singing backup for Abeti Masikini and later with Sam Mangwana. She burst into the music scene when she joined Tabu Ley's Afrisa International in 1981. Her first song with Africa International was "Mpeve Ya Longo" released in early 1982.
Her ever first album, released in 1983, was the extremely popular Eswi yo wapi, which roughly translates to "where did it hurt you?" composed by both Tabu Ley and M'Bilia Bel. The song won the award for the best song of 1983 in Zaire (now DRC) , and M'Bilia Bel won the award for best new performer.
By the mid - eighties M'Bilia Bel had officially married Tabu Ley and was a refined and mature performer. Her songs continued to dominate the scene. In 1987 Tabu Ley recruited another female artiste to accompany M'Bilia Bel. Kishila Ngoyi was her real name, but she was known by her artistic name, Faya Tess.
M'Bilia Bel quit the band late in 1987 to embark on a solo career. She briefly joined with a Gabonese producer in Libreville before leaving for Paris where she joined with guitarist Rigo Starr Bamundele. Her first album with Rigo Starr was entitled "Phenomene" and was a huge success in Kinshasa as well as abroad. Subsequent releases such as Yalowa, Desole and Exploration have met with limited success.
Mbilia Bel and Tabu Ley have a daughter together, named Melody.
Mbilia Bel - Manzili Manzil
M'Bilia Bel - Eswi Yo Wapi
M'bilia Bel - Nakei Nairobi
M'Bilia Bel & Tabu Ley - Mpeve Ya Longo Bis