Keyshia Cole Gibson known by her stage name Keyshia Cole is an American singer-songwriter, record producer and television personality. She was born on October 15, 1981 in Oakland, California. She was born to Francine "Frankie" Lons and Sal, and her auntie Sandra Hockaday took care of her. She was later adopted at age two by family friends Leon and Yvonne Cole, changing her last name to Cole.
Her career began when she met MC Hammer at the age of twelve and later met rapper Tupac Shakur. She released her debut album The way It Is (2005), with five singles: Never , I Changed My mind, I Just Want It To Be Over, I Should Have Cheated and Love. It was certified gold within 17 weeks, and then platinum just eight weeks later. The album stayed on the charts for over a year, essentially selling over 1.6 million copies.
Keyshia Cole is married to NBA player Daniel Gibson. They were married on May 21, 2011. The couple had their first son Daniel Hiram Gibson, Jr. (DJ) on March 2, 2010.
Keyshia Cole and her mother Frankie Lons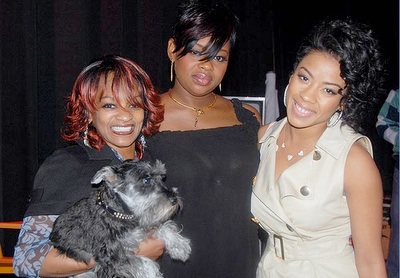 Keyshia Cole with her mother Frankie Lons (left) and her sister Neff (centre)
Keyshia Cole and her son Daniel Junior
Keyshia Cole (left) an Monica